Vancouver Squash League (VSL) – It's back and bigger and better!
** You MUST be a current FULL TIME member of VRC and a member of Squash BC to join the league **
.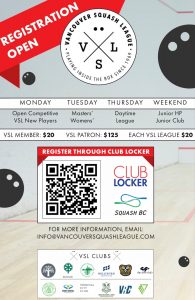 VSL has revamped itself and is offering multiple single squash leagues in 2022.
New Player (Mon)
Competitive (Mon)
Masters 50+ (Tue)
Women Only (Tue)
Adult Mixed Daytime (Thu)
Junior (Weekend)
They are also partitioning the season so instead of one session from Oct-Mar, there will be 3 session offerings.
Winter: Jan-May

(Winter 2022 session delayed until Feb7/8 or further notice)

Spring/Summer: May-Aug
Fall: Sep-Dec
Cost for VSL is as follows.
$20 One time annual VSL fee
$20 VSL individual league registration fee per league that you sign up for. (League registration required each session)
$44 Adult Squash BC Membership (contact Josh for coupon code to be used to partially credit your already paid for Recreational Squash BC membership included with your VRC membership)
+ GST
Update your Squash BC Membership at Club Locker HERE

Register for VSL at Club Locker HERE
Questions? Contact Josh Struthers
OTHER NEW THINGS VSL IS TRYING OUT IN 2022!
4 player vs 5 player teams
Team order flexibility – captains now able to position players outside of their rating order
Mandatory Digital scoring
Food not a requirement – host teams do not need to provide meals for visiting teams