Bridge Gaps – Share Knowledge – Build Confidence – Make Friends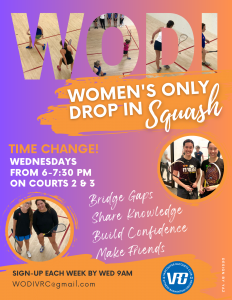 Whether you're new to squash or have been playing awhile, WODI is a fun, casual way to hone your skills and play some games, all in a safe, welcoming environment.
This drop-in is especially designed for new members to integrate into the club, or for existing members to meet potential playing partners.  It's also an ideal time for new members to get assessed by our squash pro, Josh Struthers and learn more about VRC's current programs.  Just email Josh to let him know you'll be there!
Courts 2 and 3 are booked off every Wednesday from 6-7:30pm.  Sign up online HERE each week.  If you'd like a weekly reminder, join the WhatsApp WODI chat group and keep up to date on all upcoming VRC events and news!  Contact the WODI volunteer coordinator for more information.
All members welcome!  Member guests are welcome to join in when accompanied by a member.  Guest rules and fees apply.  Guest Privileges can be found HERE.