LEAGUE INFORMATION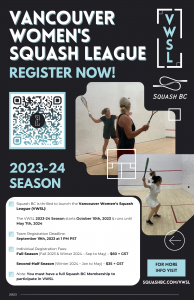 Squash BC is thrilled to launch the Vancouver Women's Squash League (VWSL)! The VWSL aims to provide opportunities for women in the Lower Mainland with access to interclub squash competition in a welcoming and fun environment. VWSL will come with its own rule set and structure, allowing the league to evolve to best serve its community and participants.
In 2023-24, VWSL will consist of a single season (with the option of registering for either half of the season, or the entirety of it). The first half will take place from September to December and the second half will begin in January and finish in May. Matches will be scheduled to take place Tuesday evenings. There will be two large events full of refreshments, prizes, and a great social atmosphere! One Holiday Break Party (December 12th) and a Season Wrap-Up Event (May 7th).
This year will see the addition of Mid-Season Entries, where newcomers can participate in VWSL midseason. Players are encouraged to introduce friends to the league!
Important Dates:
Women's Squash Week: September 18th to October 1st, 2023
Games will be played on Tuesdays.
| | |
| --- | --- |
| Registration Opens | August 23rd, 2023 |
| Registration Deadline | September 19th, 2023 @1:00PM PST |
| Bring a friend/Meet the team week | October 3rd, 2023 |
| League official schedule begins | October 10th, 2023 |
| Mid-Season Entry Deadline #1 | November 7th, 2023 |
| Holiday Break Party | December 12th, 2023 |
| Season Midway Point | |
| Holiday Break ends, Season resumes | January 15, 2024 (tentative date) |
| Mid-Season Entry Deadline #2 | February 27th, 2024 |
| Season Wrap-Up Event | May 7th, 2024 |
SIGNUP INFORMATION
Full Season Registration: $60+GST

Second half Season Registration will be available in January, at $35+GST.
This registration page is intended for any individuals that are looking to join a team. Squash BC will make its best effort to schedule home matches in a proportion equivalent to the area and home club composition of the team.
If it is more cost-effective for a team to register as individuals (i.e. if a team has fewer than 8 participants), Squash BC will prorate the team registration fee to match the total of the equivalent individual registration amounts, if requested. Teams that use this method will be subject to additional individual fees should their roster expand.
All players must be members in good standing with Squash BC to participate in the VWSL (note: Squash BC Recreational Memberships are not valid for sanctioned league play)
INCLUDED IN REGISTRATION FEE
League Coordinator provided by Squash BC

The League Coordinator will be responsible for:

Creating a league schedule
Communicating with club admin, club reps, captains and players regarding all league matters
Ensuring matches scores are entered
Assisting with VWSL related Club Locker issues
Assisting with Team & Individual Registration

Each team will be provided with 2 boxes of Dunlop Pro (double dot) balls. One for each half of the season
Squash BC Sanctioning Fees and Insurance for all players Season kick-off event
Multiple get togethers with light refreshments provided
Prizes for Champions and Runner-Ups