33rd Annual Gamble One Hundred
12th Annual Gamble 75
Plus 1st Annual Gamble 50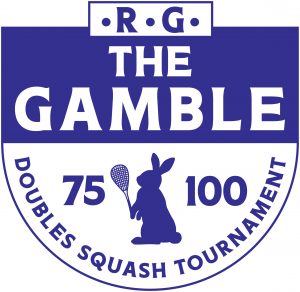 .
December 6 – 10, 2023

.
VENUES:
Vancouver Racquets Club
Vancouver Lawn & Tennis Badminton Club
Entry fee is $75 plus GST.
Handicap is based on combined ages of the teams. Autism Speaks Canada is the charity the tournament is raising funds for. $25 of entry fee is a tax donation.
Maximum 16 teams in each category.
We would like to thank this years contributors:
Birdies & Balls Pro Shop (Paul Deziel)
Autism Speaks Canada
Squash BC
Isleptsowell.com (Erik Nilsson)
Graphic Design: Yasmine Franchi
PROGRAM:
Tuesday, December 5th at Vancouver Racquets Club
6pm – Registration Sign-in
7pm – Calcutta Auction and Social Dinner
Coffee and light snacks Saturday and Sunday mornings at VRC.
Some refreshments on Sunday afternoon after finals at VRC.
DRAW TIMES
All matches start on Wednesday, December 6th. Draw times will be on the main draw
board in the VRC lounge.
Default if more than 15min or no show, and injuries according to "Squash BC Rules of Play."
FINALS
All finals will be at VRC on Sunday December 10th, followed by an awards reception.
Thank you to VRC and VLTBC for the use of their doubles courts for the tournament. White only attire at VLTBC.
Special Note: Please enter your partner's name in the notes section when signing up