October 25- 27, 2019
(ALL players must register and pay on-line by the deadline)
Early Bird Entry Deadline: Monday, October 7, 2019 @ 11:59 pm

Entry closes: Thursday, October 17, 2019 until 11:59 pm

Final Registration: Friday, October 18 until 6:00 pm (changes to an entry are not permitted after this)
This is a ranking points Masters series event open to all players 30+ as of October 25, 2019 who are affiliated as full members with Badminton BC or another state or provincial organization. You must renew your Badminton BC membership before you enter the tournament! Please go to Badminton BC and follow the instructions.
ENTRY FEE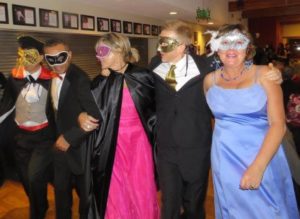 One event: $55
Two events: $85
Three events: $100
Four events: $115
Five events : $115 (65+ or higher: singles only)
Early bird discount of $5 if registered on-line on or before October 7th.
All players entered by Oct 7th will receive a $5 coupon at the registration desk.
The coupon may be used for the Last Serve Bar, the Grub Gourmet Kitchen (VRC kitchen) or the Pro Shop during the tournament.
** NEW EARLY BIRD ENTRY DRAW ** : One male and one female who enter on or before October 7th (Early Bird) will be randomly drawn to receive free entry into the 2020 VRC Masters Tournament.
Every player must complete their entry on-line by the deadline.
Please be sure your doubles partners register on-line.
Entry fee MUST be paid on-line at time of registration.
Fee includes GST, all social events, tournament souvenir and Victor shuttles.
AGE GROUPS AND EVENT CATEGORIES
Ages are determined as of October 25, 2019.
Men's Singles, Women's Singles, Men's Doubles, Women's Doubles, and Mixed Doubles will be offered in the following age categories: 30+, 40+, 45+, 50+, 55+, 60+, 65+, 70+, 75+, 80+
Players 30+ can enter in a maximum of 4 events (30+ Singles, Doubles, Mixed Doubles and one Combined Age Open Doubles either 80+ or 100+)
Players 40+ and older can enter 4 events with a maximum of 2 events per discipline.
Players 65+ may enter a maximum of 5 events provided that three events are in their own age group and subject to approval of HOC and scheduling capacity.
(Players 65+ who wish a 5th event should specify the event in the comment section on entry.)
Combined Age Open Doubles 80+ & 100+ (no gender restrictions for Open Doubles).  Players can enter only one Combined Age Open Doubles draw.
Players who enter 2 singles events cannot play a Combined Age Open Doubles event (Singles and Combined Open Doubles will be played on Saturday morning.)
The Combined Age Open Doubles events are intended as a fun competition.
Players may enter the combined Open Doubles event with a partner or request a partner.
VENUE(S)
Vancouver Racquets Club
4867 Ontario Street, Vancouver, BC
Vancouver Lawn Tennis & Badminton Club
(if entries warrant)
1630 West 15th Avenue, Vancouver, BC
White attire only.  No more than 10% colour on all court attire, except shoes.
HOST COMMITTEE
Tournament Director: Frank Price
Dennis Brown, Marian Holoboff, Carol Taylor, Clara Wai
Referee: Marian Holoboff
For event information or assistance registering please contact:
Frank Price 604-725-0061 or Dennis Brown 604-734-3762 or Carol Taylor 604-946-1582
SOCIAL EVENTS
Friday evening – snacks and beverages
Saturday/Sunday morning – muffins and coffee (VRC)
Saturday Night – Dinner & Dance @ 7 pm at VRC, Halloween Theme costume party.
Guest Dinner Ticket: $35
Child (ages 3-12) Guest Dinner Ticket: $20
Younger children welcome at the party until 10:00 pm only.
All players will receive a dinner ticket which must be presented at the dinner.
Dinner tickets may be transferred.
No charge for Dance only: Guest welcome after dinner.
Prizes will be awarded for best Halloween costumes.
WITHDRAWALS AND REFUNDS POLICY
Please refer to the regulations listed on Tournament Registration webpage.
PLAYING SCHEDULE
Friday:
4:00 pm for local players if large entry, 5:00 pm all players: Mixed Doubles, some Singles possible
Saturday:
8:30 am: Singles, Combined Doubles followed by Men's & Women's Doubles
Sunday: 8:30 am: Finals
*Please note that times are subject to change according to the number of entries in each event.
RULES
Rules of Badminton BC and Badminton Canada are in effect — 10-minute default rule and 3 minute warm ups.
Non-marking court shoes only.
VLTBC: White attire only. No more than 10% colour on all court attire, except shoes. VLTBC has a strict cell phone policy; texting only is permitted on site.
SCORING
Best-of-three matches to 21 rally points
DRAWS
Will be completed and published via Tournament Software on or before Wednesday, October 23, 2019